Ringing the Bells
Ringing the bells to celebrate the 200th anniversary of the joining of the Monmouthshire Canal with The Brecknock and Abergavenny Canal got off to a great start at Pontymoile Basin at 12 noon on Friday 10th February. Particular thanks go to Richard Dommett MBE for his part in organising the event and for making the framework that held the bell – it was very impressive to say the least.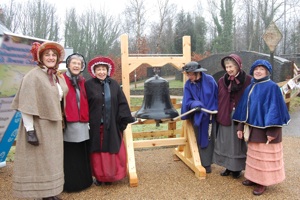 Speeches by Councillor Bob Wellington, leader of Torfaen CBC and Robin Herbert set the scene for the occasion. Robin Herbert's connection is especially interesting since he is the great, great grandson of Sir Benjamin Hall – who inspired the naming of 'Big Ben', the famous bell of the clock installed in the Houses of Parliament. Performances by the pupils of Pontymoile Primary School and the St. Cadoc's Millennium Chimes met with loud applause that was justly deserved.
This was a celebration to be remembered and could not have been achieved without partnership between the Canal Trust, British Waterways and Torfaen County Borough Council. There were so many people involved in making this work, indeed the event at Pontymoile was only the start. The ringing of Church bells from Brecon to Newport and Cwmcarn continued well into the afternoon.
1812 – 2012 Bicentenary Events
Ringing the Bells was just one of many events organised for 2012:
26th January – Canal Anniversary Talk, Theatre Brechiniog
1st – 27th February – Photography Exhibition 'Liquid Transport' By Lesley Lillywhite & Friends – Theatr Brecheiniog Gallery
4th February – Anniversary Dinner – The Angel Hotel, Abergavenny – By Invitation Only
10th February – 'Ringing Church Bells' at 12 noon – Pontymoile Basin & Churches along the canal from Brecon to Cwmcarn.
29th February – Canal Talk – Llangattock/Crickhowell as part of Crickhowell Walking Festival
1st March – Canal Walk – Llangattock/ Crickhowell / Crickhowell Walking Festival
12th March – 16thApril – Canal Exhibition at Theatr Brecheiniog Gallery – 'Reflections and Perceptions' by Maguel Aliksander
31st March – 1st April – Beacons To The Sea – Beer Launch – Brecon
April – Launch of 'The Canal and River Trust' (the new Waterways Charity)
28th April – Waterways Festival Day – Pontymoile Basin
5th & 6th May – Five Locks Rally
21st – 25th May – Brecon Primary Schools Activity Week – Brecon Museum and Theatr Brecheiniog
29th – 31st May – Primary Schools Activity Days – Goytre Wharf
4th June – Talybont & Llangynidr Canal and Jubilee Event
12th – 15th June – Primary Schools Education Week – Fourteen Locks and Blaenavon Forgotten Landscapes
16th & 17th June – Llanfoist Open Gardens
20th – 30th July – Canal Exhibition at Theatr Brycheiniog: An exhibition of canal related documents, images and exhibits