Current Volunteer Vacancies
Please check out our Current Opportunities post for any specific roles that we are currently looking to fill.
Our Trust only exists and functions because of the dedication of our volunteers. We welcome offers of assistance whether it be to work on the canals cleaning up rubbish, cutting back undergrowth, organising events, undertaking administrative work, helping to run our Community Trip Boats based at Goytre Wharf or assisting in looking after visitors to Fourteen Locks Canal Information Centre in Newport.
There is a whole host of roles that we need help with. Our current opportunities page gives more information about specific vacancies. If you can spare some time, please contact us using our Volunteer Contact Form. You will find us a very friendly and welcoming group of canal enthusiasts.
Ty Coch Locks Volunteer Group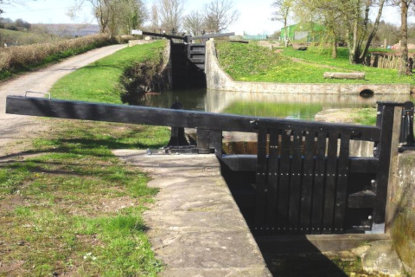 We have a volunteer group that meets at Ty Coch locks in south Cwmbran every Saturday morning. The group consists of men and women, and the occasional dog, who enjoy working on the canal. Most of the work consists of general maintenance, grass cutting, hedging and doing general upkeep on the locks and their chambers and gates. You can choose the work that suits you best. No experience required as full training will be given. If you wish to find out more please contact us via our Volunteer Contact Form or email your contact details to volunteering@mbact.org.uk
Community Trips Boats Crew
We run a "not-for-profit" Community Trip Boats operation where any income over-and-above operating costs is reinvested into the restoration/regeneration, improvement, and education promotional initiatives for the canal. Our boats are based at Goytre Wharf, near Llanover, a tranquil rural location on the Monmouthshire and Brecon Canal. The Wharf, located within the Bannau Brycheiniog National Park, is well equipped with a café, toilets, car-park and large coach-parking area. We are disability aware and dementia friendly. More information can be obtained about or boats here.
You will be an ideal crew member if you enjoy meeting people, are reasonably fit, like working as part of a team, enjoy outsider pursuits, like learning new skills, and can take direction. You do not need any previous experience as all training will be given but an interest in boating and the canal would be helpful. You decide on how much or little volunteering time you can give. You will learn new skills and every trip is different.
We always welcome additional help to manage our boats. If you would like to join our friendly boat volunteer team, we would be delighted to hear from you.
The Canal and Countryside Volunteer Group
With "seed corn" funding from the Heritage Lottery Fund, this group was set up as a partnership between the our Trust based at Fourteen Locks Canal Centre, and Newport City Council. The project has proven to be a great success.
We normally meet every Thursday, from 10am till 3.30pm, and share our time between working around the Fourteen Locks Flight of Locks and the Allt yr Yn Nature Reserve, clearing undergrowth and invasive species, maintaining paths and fences whilst creating wildlife habitats.
All are welcome to join. Please contact us to discuss how you can help. Do not feel you have to come every week or stay all day, all time is hugely appreciated and we cannot believe the difference we have already made.
Fourteen Locks Canal Centre Volunteers
Our previous Future Skills Project supported by the Heritage Lottery Fund enabled our Trust to kick start a programme of attracting and training volunteers to assist us in running the Fourteen Locks Canal Centre at Newport.
We are looking for volunteers to help us at the Fourteen Locks Canal Centre in Rogerstone.
Volunteers make a significant difference to our charity and helping visitors to the Mon and Brec canal at Rogerstone. The Canal Centre needs enthusiastic people to welcome visitors and provide assistance to anyone requiring information and help. This could be chatting to families, an enquiry about the local area, through to answering questions about the canal's history, restoration and the fourteen locks. Questions you will easily be able to answer following our comprehensive and enjoyable induction programme. We also have a small shop at the Centre and we will train you in shop and till skills. If "front-of-house" is not your choice, opportunities also exist for "back-office" administration duties. The Centre is open 7 days a week 10am to 4pm. Volunteer hours are flexible with a minimum of one 3 hour session. We provide tea and coffee and free parking.
You will be an ideal Canal Centre volunteer if you enjoy meeting people, like working as part of a team, like learning new skills, and have an interest in canals and the local community. Call in for a chat with our friendly team or give us a call on 01633 892167, option 1.
If you are interested in volunteering check out our Current Opportunities post. Please contact us to discuss how you can help at the Centre.
Torfaen Canal Volunteer Group
Formed in September 2006, we meet one Sunday morning each month (usually the 2nd Sunday) at various locations in Cwmbran. Our main activities are litter picking, fly tip removal, vegetation control and minor woodland management. If something needs doing, and we think we can do it safely, we will have a go. Contact Hugh Woodford on 01633 862481 for more information, or complete our Volunteer Contact Form.
Our meetup schedule can be found on our Torfaen Canal Volunteer Group page.
---
Please check out our Current Opportunities post for any specific roles that we are currently looking to fill.