Our vision for the canal is one that is restored to full navigation, so that boats can travel from Brecon down to Newport and up the Cefn Flight of Fourteen Locks to Cwmcarn, and even cruise on the River Usk via a marina and River Usk link at Crindau, Newport. A canal where its structures are well maintained, its navigation channel regularly dredged, and overgrowing vegetation cut back. A canal corridor that is full of wildlife and supports a diverse ecology. A canal that supports local employment opportunities from businesses within its hinterland, and is not only enjoyed by boaters, but by walkers, cyclists, fishermen, and those of us "Gongoozlers" who just want to sit on a towpath bench or in a canal-side pub garden and watch the wildlife or the boats go by.
The vision of complete restoration is a bold one and requires a substantial funding package, but the benefits to the local community in the long term will be huge. To those who are sceptical about the scale of our ambition and its attainability, one only has to look across the border to England and Scotland to see examples of where abandoned and neglected canals have been brought back to life and are now contributing to the economic, ecological and cultural well-being of their hinterland. The Kennet and Avon Canal, the Huddersfield Narrow Canal and the Millennium Link in Scotland which runs from Glasgow to Edinburgh are all examples of this success story. Clearly money can be found and engineering challenges overcome if the will is there. Many successful schemes have been undertaken on a phased basis as-and-when finance becomes available. A scheme currently adopting this approach is the Cotswold Canal Restoration.
Numerous studies have shown that canal restoration can bring major benefits to its hinterland, both of its local residents, ecology and wider economy. Over the years many technical studies have been commissioned to investigate the practicality of a Mon & Brec restoration. These have confirmed that it is technically possible, with all land needed being in public ownership.
Canal mileage in Wales is very small compared to our English neighbours. That mileage is therefore a rare commodity in Wales which should be cherished.
Wales has had some success with "bite-size" pieces of canal restoration, much of it done by or partnered with volunteers. Much good work has been done on our Mon & Brec and other canals such as the Montgomery, the Swansea and the Neath and Tennant. But Wales has missed out on the big restoration awards.
Opportunities
Working our way south we see key opportunities listed below. Please note that many of the ideas described here are our vision for the future and may not be adopted or approved proposals.
Goytre Wharf
The Wharf has long been a popular attraction for locals and tourist alike. We believe the Wharf has far greater undeveloped tourist/visitor potential. With improvements to the on-site offering, such as our Community Trip Boats, and better advertising, the site could become a magnet for visitors coming to the Bannau Brycheiniog National Park.
---
Pontymoile Basin
The Basin area has the potential to become an attractive hub for the canal on the edge of Pontypool. A new Cafe and toilet block is planned as a part of the Adventure Triangle Project. We would also like to see provision for electric boat recharging. A further expansion of facilities here will need other land ownership to be brought into the scheme.
---
South Sebastopol Basin
This small mooring space was constructed as a requirement of planning consent for a large adjacent housing development. As a part of the Triangle Project, the water space has recently been equipped with floating pontoons to allow the mooring of boots. The Trust would like to see this facility upgraded with electricity, water and sewage disposal facilities, together with a dedicated car parking area.
---
Five Locks Basin
Opened in 1997 the basin is practically unused. Lack of dredging, weed control, and offside tree cutting from Pontymoil Basin south has resulted in a low volume of boats venturing south to this point. A further discouragement is the closure of the adjacent pub, which has been converted to a dwelling. A sanitary station and charging point has recently been installed which is a positive step forward to greater use. Our Trust would like to see a trip boat or day Boat hire base set up here.
---
The Cwmbran Drive/Greenforge Way Gap
The most challenging restoration problem is where the Cwmbran Development Corporation removed 500m of canal to build a section of Cwmbran Drive and Greenforge Way. There is already a navigable culvert in place in Commercial Street. An identified route exists for a 400m length of new canal channel on top of the high Cwmbran Drive retaining wall. This leaves the last 100m as the biggest challenge, that of bridging Greenforge Way. A simple bridging aqueduct is not possible as it would not allow sufficient headroom for road traffic. Several solutions have been proposed, from an innovative combined aqueduct and lock system, to the construction of a tunnel. Our vision would be to construct a feature that would attract visitors to the canal and Cwmbran. The Falkirk Wheel and The Kelpies artwork in Scotland are good examples of where iconic canal structures can spawn a tourist attraction.
---
Cwmbran Basin
A project that was put forward by Torfaen County Borough Council for the development of a Canal Quarter on the edge of Cwmbran Town Centre. The vision encompassed a restored canal with a small mooring basin. Surrounding this would be a mixed residential/commercial development designed to take maximum advantage of its waterside location. Our Trust would enthusiastically support such a proposal.
---
Ty Coch
The Ty Coch site has the potential, with its rural outlook, to provide a visitor gateway to experience the canal. The centre piece of the development would be a mooring basin, around which would be sited visitor facilities such as a canal information centre, cafe/restaurant with associated car parking.
More information about this project can be found on our Proposed Ty Coch Waterway Park page.
---
Bettws Mooring Basin
A navigable canal will need a secure mooring basin near its southern terminus at Newport. A possible site has been identified next to the fishing lakes at Bettws. The basin could be a base for a holiday boat hire company and private boats. An engineering viability study commissioned by Newport City Council was undertaken in 2006. The proposal would be a low-key, secure facility with no access for the general public.
---
Crindau Marina and River Usk Link
A link between the present end of the canal, at the entrance to Barrack Hill Tunnel, and the River Usk, is an idea that goes back to the 1970's when an engineering study was undertaken. In 2004, 2006 and 2008 Newport City Council took the idea and developed it further by proposing not only a river link but also adding an associated marina which could be shared between canal and river craft. The marina was to act as the southern terminus of the canal, and be the catalyst and focal point for the development of a canal quarter at Crindau. The vision was for the marina to be bounded on its western side by sympathetic mixed development comprising residential accommodation, offices and waterside pubs restaurants and cafes. Regrettably this important project was deleted from the current Local Development Plan in 2015. Our Trust wishes to see this project go forward.
---
Restored Fourteen Locks Flight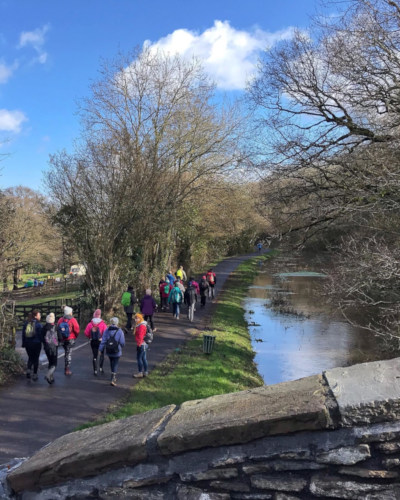 At present a single lock and two pairs of locks have been restored at the top of the flight. Our vision would be for all the locks to be restored and fully functional. The flight would become a "challenge" for boaters and a magnet for visitors who would come to view the spectacle of boats transcending the flight. The potential is there for it to become a major tourist attraction as has happened at other lock flights such as Devizes on the Kennet and Avon Canal.
---
Cwmcarn Terminus
The present terminus of the Crumlin Arm at Cwmcarn needs a turning or "winding" facility in canal terminology at the end of the canal. It also needs a mooring basin with associated facilities for boaters here. A sketch proposal was drawn up to construct a mooring basin and associated hotel/leisure facility sites with the nearby disused Adams Quarry at The Darren. The outline proposal also included the provision of a cable-car ride to the top of Twmbarlwm.
---