Our Trust campaigns to protect, promote, and restore the Monmouthshire, Brecon and Abergavenny Canals, together with actively engaging in restoration and educational initiatives. The canals are also known as the Monmouthshire and Brecon canal, or the "Mon and Brec". The Mon & Brec is widely recognised as being one of the most beautifully located canals in the UK.
We are a small local volunteer run charity set up in 1984 to fight for the preservation and restoration of our superb local canal, and all our resources are used to this end. In order to accomplish our mission we need more members, volunteers and financial donations.
If you care about our local canal, then please become a member of our Trust. More information on how to become a member is on our Support Us page.
In order to achieve our objectives, we work closely with our major partners, the canal owners and managers: The Canal and River Trust (formerly British Waterways); Torfaen County Borough Council; Newport City Council, and Caerphilly County Borough Council. We also work with other partners such as Monmouthshire County Council, Powys County Council, Brecon Beacons National Park Authority, amongst others. Details about who manages which section of the canal can be found on our Who Manages the Canal? page.
for the restoration of the Mon & Brec canal
to protect & preserve our canal heritage
speak out when the canal is threatened
object when development threatens the canal
Work with local organisations
local Councils
Brecon Beacons National Park
Welsh Government
canal associations and restoration groups
local amenity groups
Work with National Organisations
Glandŵr Cymru, the Canal & River Trust in Wales (CRT)
Inland Waterways Association (IWA)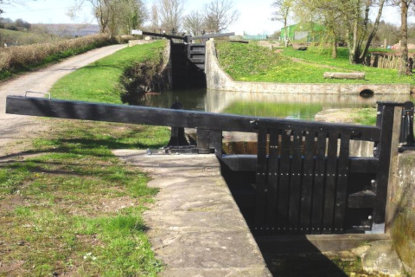 work with partners on restoration projects
apply for grant funding to restore
assist with expertise from our experienced volunteers
Protection and Improvement
work with partners to improve conditions / facilities on navigable sections of the Monmouthshire and Brecon canal
organise volunteer work parties to clear litter and cut back vegetation on the unnavigable sections of the canal
support Glandŵr Cymru, the Canal & River Trust in Wales (CRT)
enable craft heritage skills training on canal restoration schemes
run boat crew training courses
school groups use our boats at Goytre Wharf as floating classrooms
school group visits to the Fourteen Locks Canal Centre in Newport
via our website
presentations and slide shows
through our displays at the Fourteen Locks Canal Centre in Newport, at Goytre Wharf and at other events
Fourteen Locks Canal Centre
Come and visit us at the Fourteen Locks Canal Centre on the Crumlin Arm of the Monmouthshire and Brecon canal.
The Fourteen Locks Canal Centre and Cafe is a popular family attraction that is positioned on top of the Cefn lock flight, an engineering wonder of the industrial revolution that is located in the picturesque area of Newport. As a result of the support of the Heritage Lottery Funding two pairs of locks have been restored.
Find out more on our Fourteen Locks Canal Centre page.
Our Community Trip Boats at Goytre Wharf
Edith Elizabeth at Goytre Wharf
Join us for a leisurely cruise along this beautiful historic waterway
Our boats are based at Goytre Wharf, near Llanover, a tranquil rural location on the Monmouthshire and Brecon Canal. The Wharf, which is located within the Brecon Beacons National Park is well equipped with a café, toilets, car-park and large coach-parking area. For your satnav the postcode is NP7 9EW.
Our "not-for-profit" Community Boats operation is run by our volunteers, where any income over and above operating costs is reinvested into education, restoration/regeneration, improvement, and promotion of the canal.
We are disability-aware and dementia-friendly. We will endeavour to assist wherever we can. If you will need assistance, please let us know in advance. We are there to help you enjoy our cruise.
To find out more about our boats, when they are operating, and how to book, please visit Our Boats page.
We always welcome additional help to manage our boats. If you would like to join our friendly boat volunteer team, we would be delighted to hear from you.