There are a number of great maps of the Mon & Brec canal, both contemporary and historical. You may find the following map resources helpful as you navigate the canal by boat, foot or by car.
---
Current map of the Monmouthshire, Brecon and Abergavenny canals
How to navigate the map: Use your mouse wheel to zoom in or out. Left click and drag to move the map. Click on the Enlarge symbol top right of the map to make it full-screen.
You can turn on/off the sections of the canal, and locations
on the map by clicking the eye symbols just below the map.
You can click on any location icons for more information, click on the location photo for even more information on that location.
Click title to show track
Mon and Brec Canal complete canal
Mon and Brec Canal unnavigable section
Key Locations
---
Maps from Waterway Routes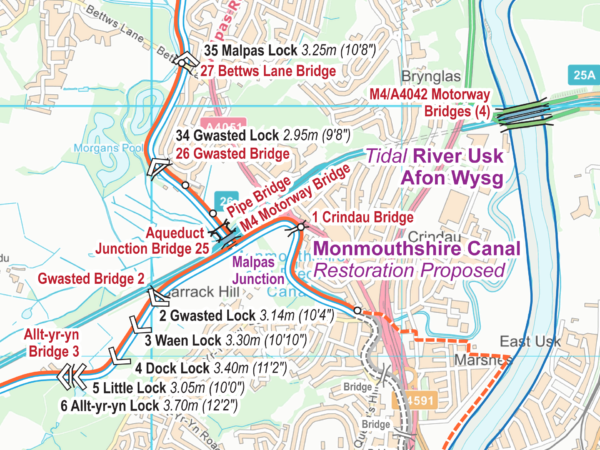 There are some really useful maps of the Monmouthshire and Brecon Canal from Waterway Routes. They cover the navigable route and the restoration section.
They also have maps of all the other Welsh and English waterways. Well worth checking out and considering purchasing the maps you need.
---
Linear Map from CanalPlan
A linear online map with useful information on each major feature of the Monmouthshire and Brecon Canal from CanalPlan. Be aware the map displays the southern part of the Mon&Brec at the top of the page, and the northern part of the canal at the bottom of the page which may be counter-intuitive.
---
Fourteen Locks Heritage Trail Map
We have created a handy map for walking the Fourteen Locks Heritage Trail.
Click on the map for a larger view.
---